Great entertainment and affordable viewing experience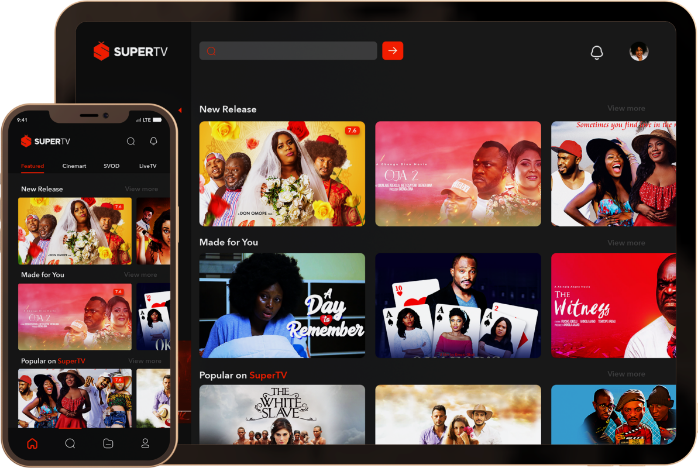 With decades of experience in business and streaming,
our multinational staff ensures our partners
enjoy the highest levels of performance in every aspect.
Contact us and find out for yourself!
SMS Subscription Codes
Subscribe to SuperTV packages by texting selected keyword to the shortcode.
Available only on MTN
FAQs
1// What is SuperTV Try out Version?
What is SuperTV Try Out Version?
Our Trial allows subscribers stream all of our content including live TV and Video on Demand (VOD) for up to 4 hours in one day. It enables the user watch some of their favourite shows and experience streaming with ZERO DATA. From here each user can determine their preferred SuperTV bouquet or plan for future subscriptions
2// What is Video on Demand (VOD)?
4// How do I use SuperTV?
5// How do I pay for Subscription?
6// Do I require Username and Password?
7// SuperTV app is asking for username and password?
8// What devices can I watch SuperTV on?
9// How can I watch SuperTV on PC and Mac?
10// Do I need Credit/Debit Card to pay for SuperTV?
11// Do I need Internet Data to watch SuperTV?
12// How do I check my streaming Balance?
13// What bouquet plan does SuperTV offer?
14// Where can I watch SuperTV?
15// I don't have an MTN line, can I still watch SuperTV?
16// Please confirm that Customer can check time availability, time expiration and Validity from the SuperTV App.
17// How do I upgrade or downgrade my subscription package?
18// How do I find a specific content on SuperTV?
19// Can I download movies and watch later after my subscription expires?
20// How do I get my produced content on SuperTV?